Any chance these glasses would actually improve your game?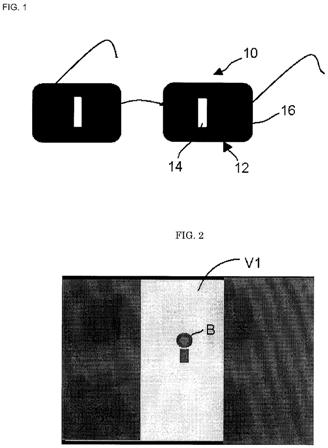 "Therefore, when the golfer looks at ball B through the see-through section 14 as shown in FIG. 2, the golf glasses 10 prevent the golfer from looking-up movement because if the golfer lifts his or her head up only slightly, the golfer would not look at ball B within the field of view.

[0029] On the contrary, if the golf glasses don't comprise the view shielding sections, a golfer would tend to make looking-up mistake because broad field of view V2 as shown in FIG. 3 allows the golfer to look ball B even if he or she would make looking-up a little.

[0030] By comparison, if the see-through section of the lens is formed of a circle or a horizontally long shape, they would blind golfer's feet as noted above, and therefore the golfer would have difficulty measuring the distance to the ball. "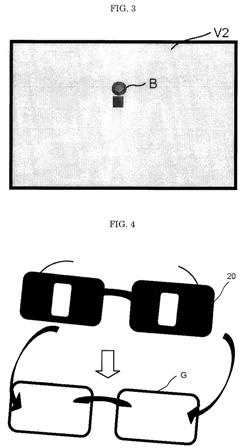 The drawings come from a patent application that published this week as US Pub. No. The present invention relates to a pair of golf glasses. The glasses are designed to enable the golfer to measure a distance to a golf ball precisely as taking an address position, and make the golfer looking at a ball with keeping his or her head still until a clubhead hits the ball, and thereby prevent the golfer from looking-up mistake during a golf swing. The golf glasses of the present invention are characterized in that each of the lenses of the glasses includes a see-through section formed of a vertical gap corresponding to the pupil of golfer's eye, and the other part is a view shielding.

While I don't have much faith in the usefulness of these glasses, I would be happy to let my opponents wear them during a match.