In a post on January 29th I predicted the look of a PING driver that would be on the market within 12 months. We are now 8 months through the 12 month window, yet I have not given up on the prediction. After all, Karsten design patents almost always represent products that will make it to the market.
Today a Karsten design patent issued that makes me think the days of the conventional PING driver with a slightly tweaked sole design are long gone. Check out this design: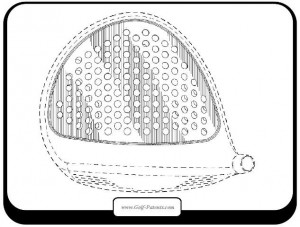 Interesting, a perforated crown presumably having some type of clear cover!
So, which one do you think will be first to make it to the market?
Dave Dawsey – The Golf Patent Attorney
PS – follow me on Twitter (@GolfPatents) and sign-up HERE to receive posts via email.