Who hasn't seen a playing companion trying to balance a wedge and a putter on a 2" golf tee to keep their grips elevated and dry? Sure, there are plenty of products directed to solving this problem but I have to say that this solution is the best by far. Now I hate wet grips as much as any golfer but I have avoided buying any of the current products because I know that I will be on the other side of the green before I realize that it is still clipped to my bag; and forget about the fact that it will be lost after five rounds.
Well, the solution has arrived and I would gladly spend my hard earned money on the invention disclosed in a patent application that published this week as US Pub. No. A golf handle supporting device (10) having a proximate end (20) and a distal end (30) for resting on a ground surface as oppose to getting the club handle wet or dirty. A first arm (40) extending in a first direction from a proximate end (20) and a second arm (50) extending from the proximate end (20) in a second direction offset from the first direction; the first arm (40) and second arm (50) each defining a mid-portion comprising a first bend (60) and a second bend (70) which extend downwards in the direction of the ground and terminate at an end of their respective first arms (40) and (50); a first leg (80) and a second leg (90) extending from their respective ends (60) and (70) to the distal ends (30) and generally widen outwards to provide further support.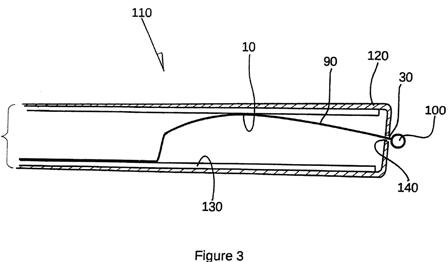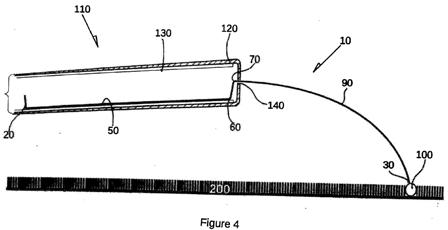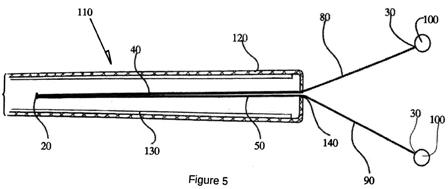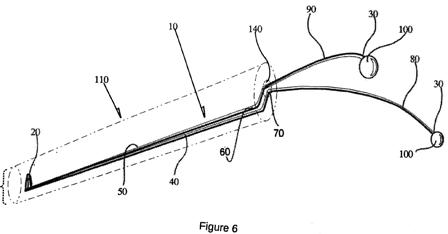 Genius! Simply marvelous (assuming what you see sticking out of the end of your grip is not too hideous).
Dave Dawsey – Monitoring Golf Inventions