An interesting golf bag patent application recently published directed to Sun Mountain's hip belt system. The application published as US Publication No. 20090179058 titled "Hip Belt System," which describes the invention as:
A hip belt system (10) for a golf bag (14) is provided for transferring a portion of the weight of the bag (14) during carrying to the hips of the user by way of a hip belt member (12). The system (10) includes the belt member (12) and a longitudinally aligned sleeve (24) secured to the tubular body (16) of the golf bag (14). The belt member (12) includes a central portion (32) for extending through the sleeve (24) and a pair of tapered portions (34) extending respectively to a first belt end (28) and a second belt end (30). The belt ends (28 and 30) are provided with releasable fasteners (36 and 38) for mating with each other to provide for quick fastening and unfastening. Length adjusters (44) are provided on the belt ends in order to adjust the total length of the belt member (12) to fit the waist of the user. The belt member (12) is removable from the sleeve (24) for storage when the hip belt support is not desired.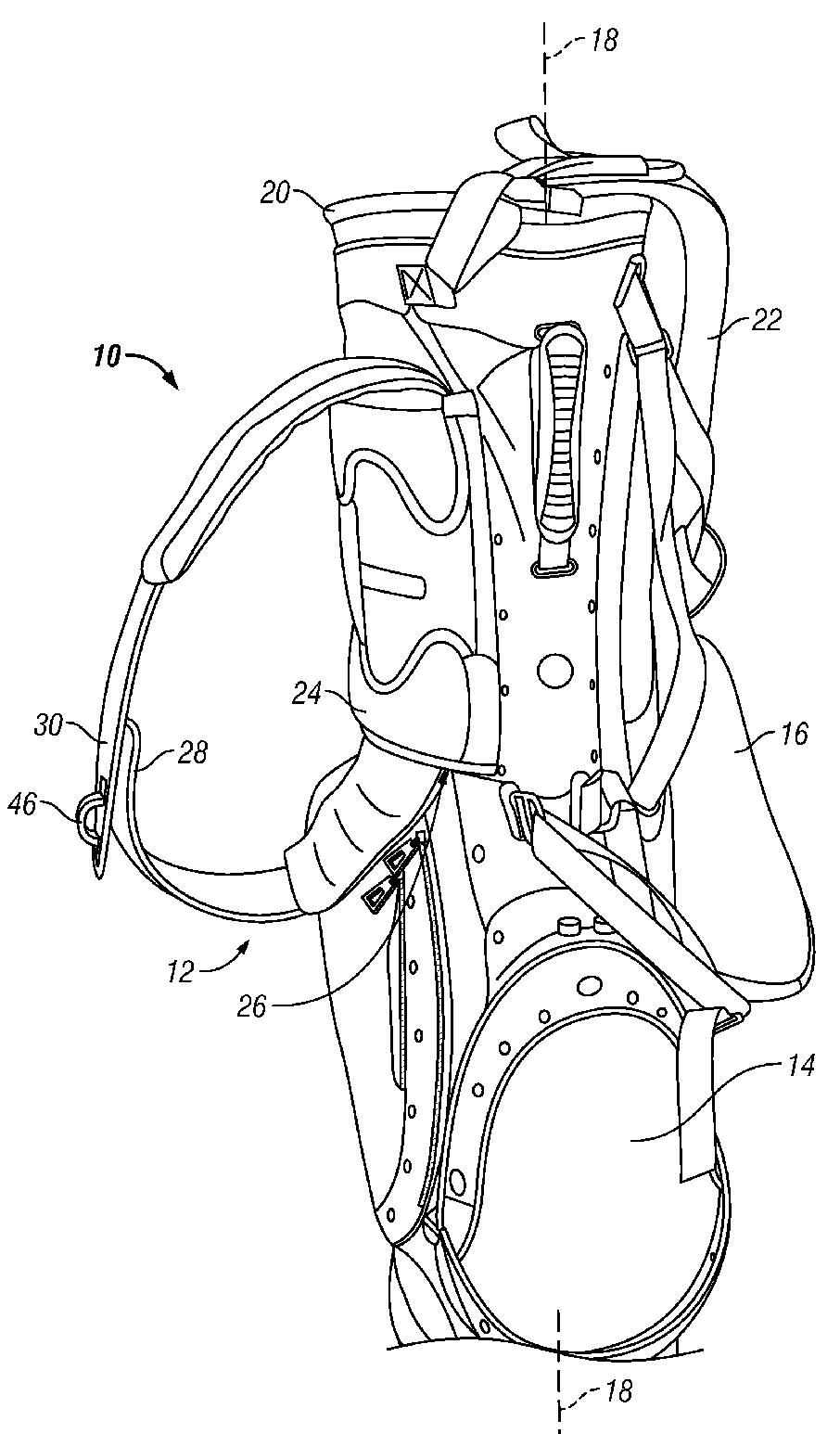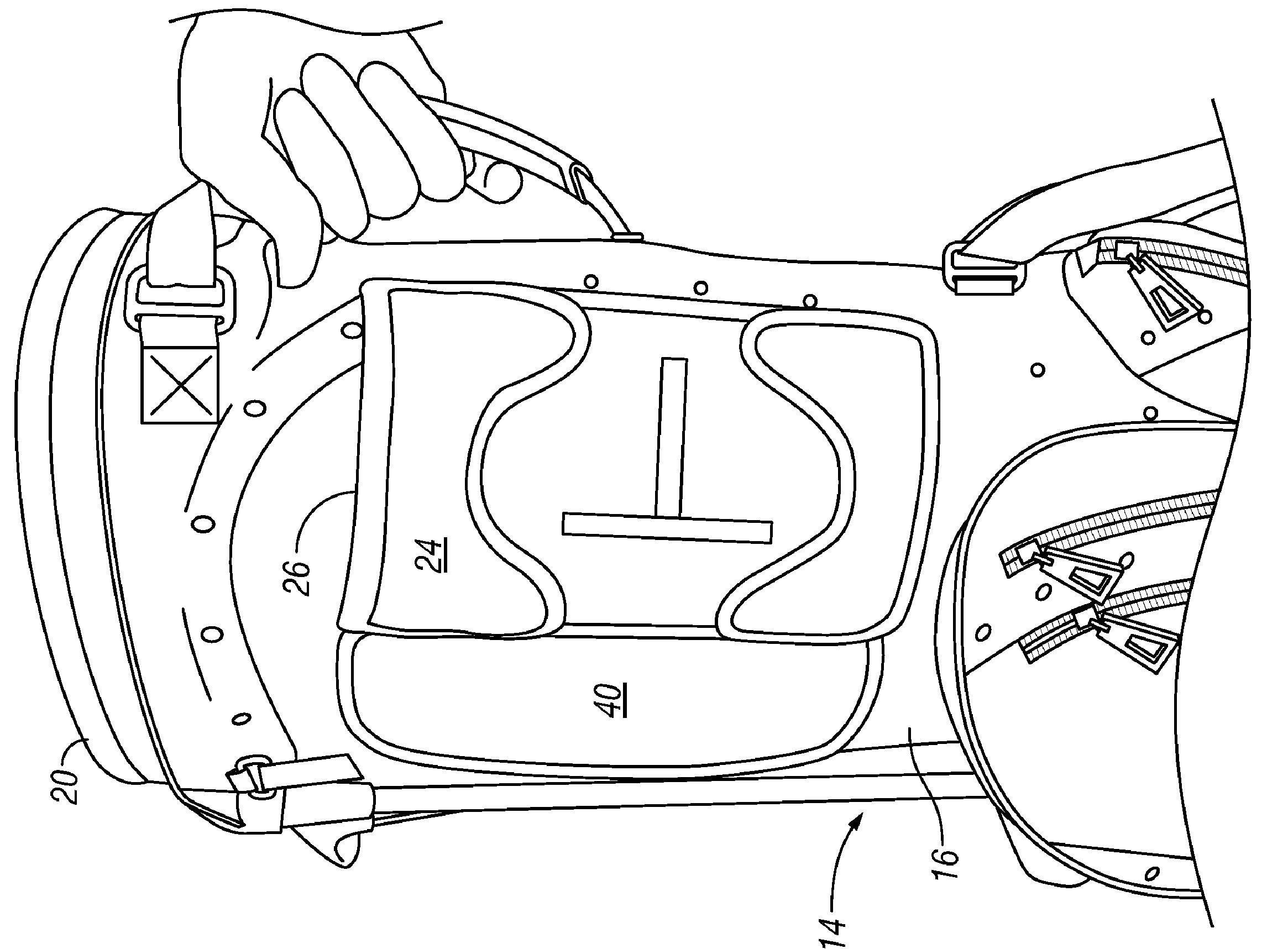 The application does disclose two very relevant prior golf bag hip belt patents.
[0003] Golf is a sport which its practitioners often take very seriously. Golfers are always looking for ways in which they can improve their shot making and scoring and general enjoyment of the game. Often these advances take the form of "improvements" in the equipment used to play the game (clubs and balls). Others relate to accessories which improve the quality of the experience, such as golf bags, carts and head covers.

[0004] The golf bag for carrying clubs, balls and accessories is a principal element of any golf experience. When fully loaded, this can weigh as much as forty to sixty pound (although judicious packing can keep the weight well below these amounts). Carrying a bag of high weight over eighteen holes can put a significant strain on a golfer's body. Therefore, it is desirable to find ways to improve the balance and weight distribution.

[0005] Many efforts have been made to provide improvements to the carrying systems. The inventor's own X-STRAP system provides dual shoulder straps which cross and interlace to provide balance. Another significant improvement is found in the patents of Karl Feldman Jr. (U.S. Pat. Nos. 5,950,889 and 6,182,874) which deal with methods of distributing some of the weight of the golf bag to the hips rather than the shoulders of the user. Notwithstanding these improvements, room remains for further advances in weight distribution systems and methods of achieving comfort and utility to golf bag users.

Check out the design in the '889 patent that issued back in 1999: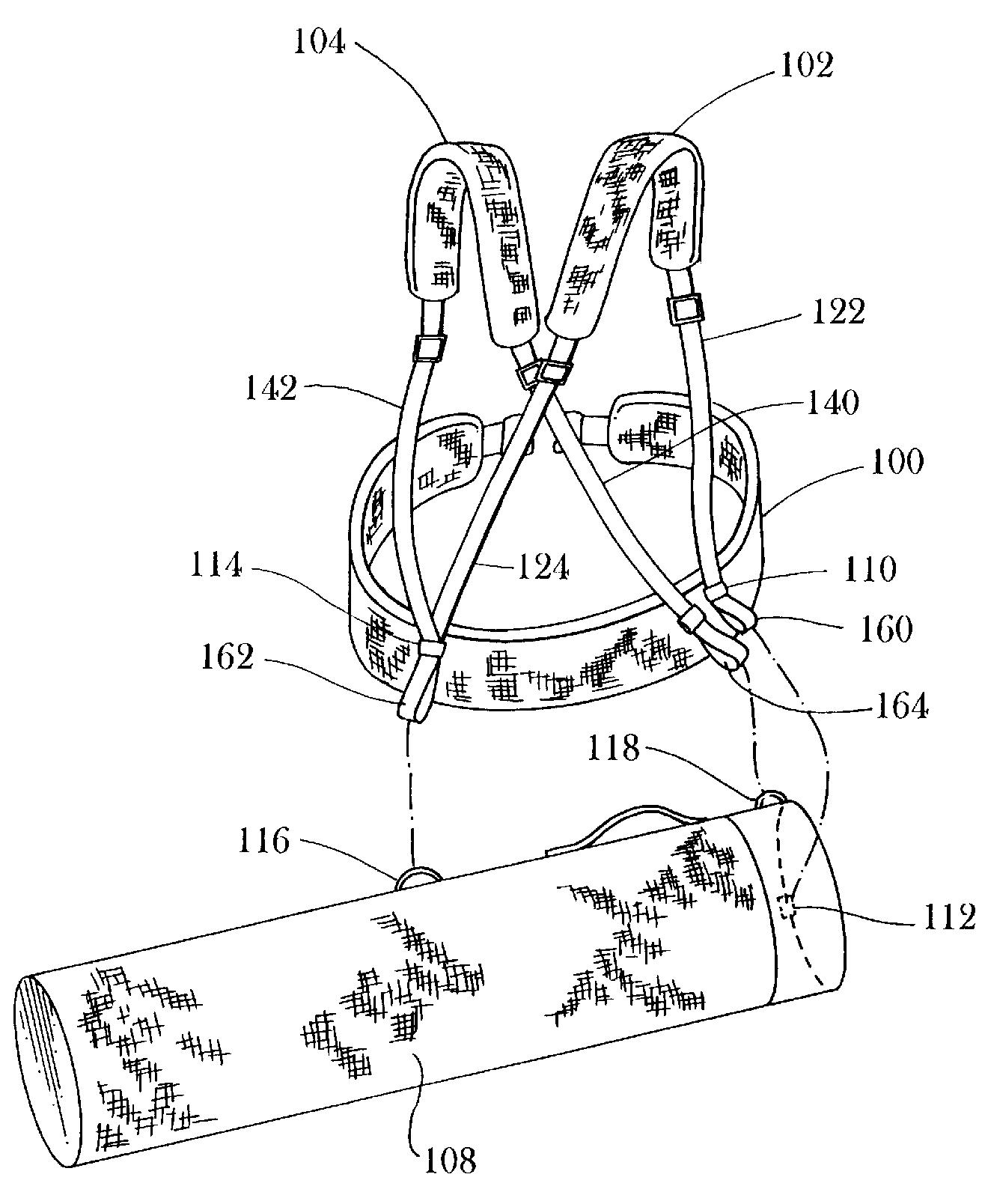 Interesting. I need to try one of these out.
Dave Dawsey – The Golf Patent Lawyer
PS – click HERE to check out other golf club IP posts