I recently stumbled across an old putter patent application that made me think of that lovable hillbilly Boo Weekley. While I generally despise those that seem to take so much pleasure in killing animals as "sport," there is something about Boo that just makes you like him and want to have a beer with him.
The patent application published as US Pub. No. 20020072431 titled "Golf Club with Decorative Member." As you may have guessed, the "decorative member" is animal tissue! I think of it as a dog's giant rawhide chew wrapped around a putter shaft. Who wouldn't want to play with that? Check out these drawings:
---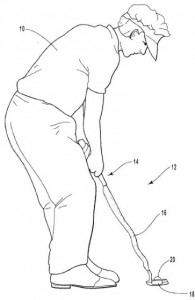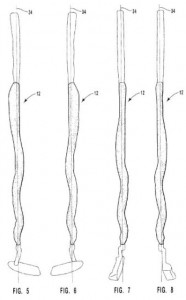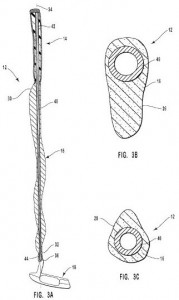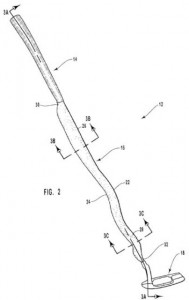 ---
The patent application describes the invention as:
The incorporation of animal tissue into a golf club in an aesthetically pleasing manner through the use of an improved decorating process to provide a golf club that has the benefits of modern golf technology and a pleasing, intriguing, and noteworthy aesthetic appearance. A decorative member is formed about and bonded to a golf club shaft that comprises a piece of hollow elongate animal tissue. The pliable nature of the animal tissue allows for various contours to be readily formed during manufacture. A strong bond forms between the animal tissue and the shaft so as to prevent any twisting of the decorative member about the shaft without the use of an adhesive. The animal tissue is stainable, can receive and retain varnish, and is easily mounted on a particular golf club shaft to provide the appearance of a traditional wooden golf club without sacrificing modern performance characteristics.
This is in the running for worst ever golf invention!
Dave Dawsey – A Putter Patent Lawyer
PS – follow me on Twitter (@GolfPatents) and sign-up HERE to receive posts via email.