Timing is everything! Check out this chipper.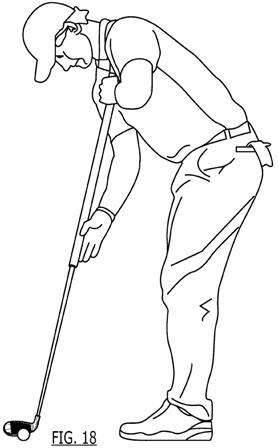 The drawings come from US Publication No. The present invention is an improved golf club intended to be used for chipping. The club is a long-shafted iron with a wedge-type head having a high lie angle and an extended grip. When used is a pendulum fashion like a long shaft putter, the club's head has a greater chance of staying within the desired impact zone during the swing. The club according to the invention comprises a club head with a lie angle of at least about 64 degrees, preferably about 67 degrees, most preferably about 72 degrees, a shaft, and a grip, the overall length of the club at least about 44-inches.

The sad thing is that until recently there was probably a niche market for such a club.
Dave Dawsey – The Golf Attorney
PS – Check out more "Would it Work?" posts HERE