Say what? A recently published Cobra Golf patent application discloses that some day such a ridiculous combination may be possible. Possible – yes, feasible – no! If it is feasible Cobra, make one up for me and it will be the only driver I play for 6-months!
The application published as US Pub. No. 20140221125 titled "Golf Club Heads Comprising Patterned Materials and Methods for Making Club Heads Comprising Patterned Materials." The application describes the invention as:
---
Methods and systems for selecting and fabricating individualized golf clubs or golf club components. Using a website, for example, a golfer can input relevant information about his or her golf game, receive recommendations for golf club components, select from the recommendations, and have the desired golf club components manufactured and delivered. In some embodiments, the golf club components include custom golf club heads fabricated using laser cutting to produce a plurality of flat structures from which a portion of a club head is constructed.
---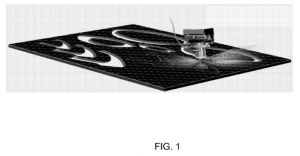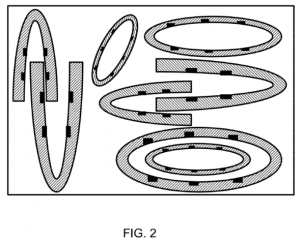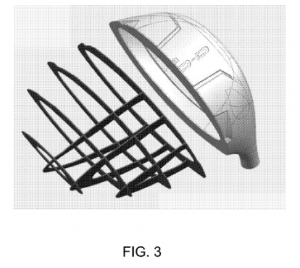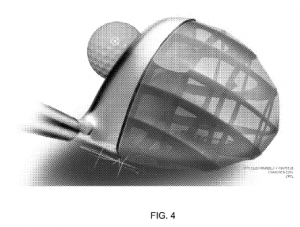 The application goes on to explain:
---
BACKGROUND
[0003] Golf clubs are formed through a variety of methods. Commonly, a golf club head is forged or cast, and then machined or ground and polished to the requisite dimensions and desired aesthetic quality. The head is coupled with a golf club shaft, typically constructed from graphite (composite) or steel. Most shafts are a tapered cylindrical tube cut to a standard length with a grip on one end and an interface for the club head on the other. In order to reduce manufacturing costs to meet user price points, manufacturers use a limited number of molds to produce most of their club heads. The molds are not readily adjustable with respect to the particular characteristics of the golf club, or the player that will use them.
[0004] This manufacturing process presents a problem due to the fact that not all golfers are built the same, and not all golfers have identical swings. Because of variations in golf swings, body size, and frequency of play, many golfers would benefit from an optimization of lie angle, loft angle, club shape, club size, club weight distribution, or other club design parameters. However, altering the manufacturing process to produce individualized clubs can dramatically increase the price of the clubs, so most golfers simply settle for "off the shelf" clubs. Additionally, obtaining individualized golf clubs often involves meeting with a fitter or other professional who is aware of the club options, and can help the golfer match their needs with particular components. Using a fitter further increases the costs, and professional fitters are not available in all geographic areas.
[0005] Many of the traditional manufacturing processes are also environmentally taxing in addition to producing products that are difficult to custom fit. For example, casting, forging, and etching require great amounts of energy and/or toxic chemicals. They also produce unwanted by-products in the way of tailings, soot, and greenhouse gasses. Additionally, most golf club manufacturers produce the golf club heads in Asia to take advantage of reduced labor costs. However, because most of the consumers of golf club heads are in Europe and North America, the golf club heads have to be shipped by sea (or otherwise) resulting in an increased transportation footprint. Manufacturing methods that reduce waste and greenhouse gasses while providing improved customizability are likely to be adopted by consumers.
[0006] As such, there remains a need for methods of selling and manufacturing golf clubs that allow individualized design variations while maintaining efficiency, cost effectiveness and produce less waste.
SUMMARY
[0007] The invention makes selecting and obtaining individualized golf club components easier while reducing the fabrication costs and using recyclable or renewable materials. Using the methods and systems of the invention, a golfer can use an interface, e.g., a web browser, to enter information about his or her golf game and body type, whereupon options are presented that are likely to improve his or her game. After the golfer has selected among the options, instructions are sent to cause the golf club components to be fabricated, e.g., with a laser cutting process The completed personalized golf club head, e.g., clubs, are then delivered to the golfer, or the golfer obtains them from a retailer who will verify the fit of the club head. Thus, the invention allows a larger population of golfers to benefit from individualized golf club components, increasing their enjoyment of the game.
[0008] The invention generally discloses methods for making a golf club head comprising a plurality of flat structures that are interconnected to form a portion of a back of the golf club head. Typically, the flat structures are cut from a stock material such as wood, metal, composite, laminate, rubber, plastic, cardboard or a combination thereof. In an embodiment, the flat structures are assembled to form a cage structure that is a back portion of driver-type club head. Such a driver-type club head may also include a cover comprising wood, fabric, composite, or plastic. In another embodiment, the flat structures are sandwiched together to form a structure of an iron-type club head or a putter-type club head. Such structures may be substantially solid, or such structures may comprise a void or a cut out.
[0009] In one instance, the invention includes a method for producing a golf club component comprising receiving golf club component selections, providing material for the golf club component and forming the golf club component layer by layer from the material. Typically, information is received from a user, the information is compared to a database correlating the information and golf club component options, and golf club component options are output to the user. The user may then select from among the options, resulting in the formation of the desired golf club head.
[0010] The invention includes a method of providing a customized golf club component by receiving a user's selection of an option and storing the selection in a tangible, non-transitory memory. A digital file with the information about a golf club component including the selected options is created by a computer processor coupled to the memory. The information is transferred to a production facility and a customized golf club component including the selected options is produced. Methods of the invention may additionally include collecting and transferring information to a production facility in addition to billing and shipping data for use in completing delivery of the desired components.
[0011] In some embodiments, the user is an individual golfer, i.e., a golf club user. The golfer may interact with systems of the invention to choose a golf club head or a portion of a golf club head of his or her liking, or golf club heads that have been recommended based upon information provided by the golfer. Such information may include, but need not be limited to, height, weight, sex, handedness, age, geographic location, golf score handicap, and frequency of play.
[0012] In some embodiments, the user may be a designer rather than an individual golfer. The designer may select from a wide range of parameters to customize a golf club head. For example, the designer may select any of the following parameters: weight, weight distribution, bounce angle, lie angle, offset, loft angle, shape, hardness, sole camber, sole width, cavity undercut, center of gravity, face height, hosel outer diameter, hosel inner diameter, hosel taper, hosel depth, toe height, groove width, groove depth, and groove shape.
[0013] According to certain aspects of the invention, golf club heads can be fabricated using process whereby a stock material is cut into a plurality of flat structures that are assembled to form a portion of a golf club head. Such processes provide nearly limitless variability in shape and size, and allow fabrication of structures that are not achievable with conventional machining, e.g., voids. The flat structures are typically constructed from a stock material such as wood, metal, composite, laminate, rubber, plastic, cardboard or a combination thereof. In some embodiments, the portion of the club head is a cage structure that forms a portion of the back of a driver-type club head. The cage structure may be covered with a covering and may include weights to change the center of mass of the club head. The voids may include internal structure such as cells or honeycombs. The voids may also include high-density materials that allow the center of mass of the club head to be advantageously positioned. In some instances the methods of the invention can be used in combination with other custom manufacturing processes, such as metal sintering using powdered metals. Powdered metals suitable for use in the invention include, but are not limited to steel, stainless steel, iron, copper, bronze, aluminum, tungsten, titanium, titanium alloy, chromium-cobalt alloy, and combinations thereof.
[0014] The invention additionally includes systems for selecting and fabricating golf club heads and portions of golf club heads. Systems of the invention include a processor and a computer-readable storage medium containing instructions which, when executed by the processor, cause the system to receive information from a user, compare the information to a database correlating information and options for a portion of a golf club head, output options for a portion of a golf club head to the user, receive selections regarding a portion of a golf club head, and output fabrication instructions for a portion of a golf club head. The system may further comprise fabrication equipment that receives fabrication instructions for a portion of a golf club head and cuts a stock material to create a plurality of flat structures that are used to assemble the desired portion of a golf club head.
…
[0031] In order to provide properly fit clubs, portions of the club, especially the shaft and club head are specifically selected for the individual golfer. A custom-constructed set of clubs may be crafted from raw materials or modified from stock pieces. As expected, club sets that are hand-crafted from raw materials are very expensive and take a long time to produce. Thus, manufacturers typically rely on post-manufacturing methods for custom fitting golf clubs, the majority of which involve placing the club head in a vice and bending the metal until the desired specifications are met. Often, this type of adjustment will affect parameters that are not meant to be adjusted, such as bounce. Of course, multiple modifications or improper bends may result in fatigue of the metal or weakening of the club head.
[0032] The invention makes use of known techniques for pattern cutting in flat stock material, such as cutting with programmable laser cutting machines. Laser cutting can be achieved with a variety of lasers, including gas and solid state lasers. During the laser cutting of the work piece, i.e., a metal work piece, a laser beam is focused onto the work piece which is to be cut. Often, a cutting gas is simultaneously blown onto the cutting location by means of a nozzle. The cutting gas is intended to protect the nozzle of the cutting installation and the focusing lens contained therein from damaging the surrounding material during the cutting process. The cutting gas also assists with flushing the material, e.g., slag out of the cutting kerf. In many cases, the cutting gas used is oxygen or an oxygen-containing gas mixture. The chemical reaction of the oxygen with the cut material (for example steel) produces additional heat which assists the cutting process. The invention is not limited to laser cutting, however, as other techniques, such as saw, knife, or stamp cutting can be used to produce a plurality of flat structures that will be used form the desired structures.
[0033] The techniques of the invention will also make use of cutting algorithms, e.g., contained in computer software, to calculate an optimum pattern to cut in the stock material in order to minimize the waste produced. Such systems can, for example, calculate how to interleaf the flat structures, e.g., as shown in FIG. 2.
[0034] Additional processes may be used in combination with cutting stock material to produce a plurality of flat structures. Metal sintering and related processes offer an alternative to off-the shelf club heads. Powdered metal sintering systems involve a bed of metal powder that is sintered or melted layer by layer by a laser or electron beam to create metal parts. After the part has been created, the surrounding powder can be brushed away or shaken out of the part. In addition, a variety of metal powders can be melted in these systems. Metal sintering processes typically require the input of 3-D CAD files and filling a dispenser with the desired powdered starting materials. A control program converts the CAD files into instructions for controlling the layer by layer formation of the metal parts. The layer by layer formation is accomplished by laser sintering a first layer of approximately 20 to 40 micron powder onto a steel platform. The platform then lowers by approximately 20 to 80 microns, a fresh layer of powder is swept over the previously sintered layer, and the next layer is sintered or added on top of the previously built one. The additive process is repeated until the desired part is complete.
…
[0040] Materials
[0041] Various materials can be used for the fabrication of a plurality of flat structures interconnected to form a portion of a golf club head. In particular, wood, metal, composite, laminate, rubber, plastic, cardboard or combinations thereof are suitable. Wood may include balsa, bamboo, pine, fir, oak, teak, birch, ash, and maple, among others. Metal may include aluminum, iron, tungsten, titanium, chromium, and alloys thereof, among others. Composites may include carbon fiber, glass fiber, and woven fiber composites including various types of pre-impregnated materials, including composites pre-impregnated with high density materials such as tungsten. Rubber may be natural or synthetic rubber. Plastics may include polyvinyl chloride, polyethylene, styrenes (including ABS), urethanes, polyamides, and polyimides, among others. All the materials may be recycled or virgin. Some of the same materials, in addition to other materials, can be used for coverings of disclosed structures. In particular, woods, fabrics, composites, and plastics are suitable for use in the fabrication of a cover. The fabric may be a natural fabric, such as cotton, wool, hemp, or silk, or a synthetic fabric such as polyester, nylon, acrylic, rayon, acetate, spandex, Mylar, or Kevlar. Other materials may also be introduced into the structure to control weight, sound, and performance, such as cork.
 [0042] Stock materials, including any of the above, can be custom cut to prepare desired club head portions. An exemplary process is shown in FIG. 1, where a laser cutting machine is shown cutting a sheet of composite material to form a series of spars that will be used to form a cage structure for a driver-type club head. The cutting process typically uses a pattern such as shown in FIG. 2, which defines what is to be cut from various locations in the stock materials. As shown in FIG. 2, the amount of waste that is produced by the process can be minimized by interleafing various parts to maximize the number of parts cut per sheet of stock material. In some instances, the waste can be recycled to make new stock material.
---
Love the concept; don't love the likely $1000 price tag.
Dave Dawsey – Monitoring Golf Patents