If you are concerned enough about the wind speed on a golf course (and you are not on the Tour) that you would even consider carrying a calibrated wind sock…. snap out of it! The last thing I want in my foursome is another gadget that just ends up slowing down play. It is bad enough to wait on the tee of a par 5 because one of the golfers in the group in front of you has decided to let the green is clear so they can go for it (generally after hitting a 195 yard drive). If that same person then pulled out a wind sock to really "tune-in" their 300 yard approach shot, golf may become a contact sport.
The inspiration for my quasi-rant is USPN 7,921,715 titled "Handheld Windsock with Dial Indicator," which issued yesterday. The patent describes the invention as:
A handheld windsock includes a housing with a graduated dial indicator mounted on the housing. A cord attached to the housing overlays the graduated dial indicator and a miniaturized chute is attached to an end of the cord. In response to airflow, the miniaturized chute displaces the cord in relation to the graduated dial indicator, providing a readable indication of the wind speed. Wind direction may be obtained as the direction of maximum displacement of the miniaturized chute. A data table displayed on the housing allows a user, such as a golfer, to cross-reference a measured wind speed to a quantitative adjustment, such as a numerical adjustment to the selection of a golf club.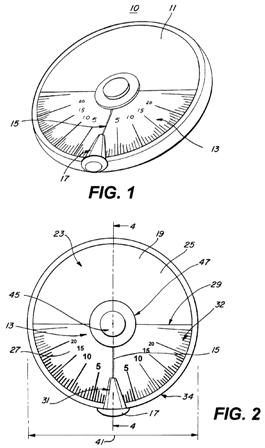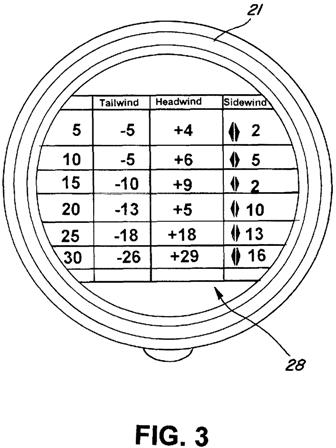 Amazing! Am I nuts, could there be a market for this patented golf product?
David Dawsey – The Golf Patent Attorney
PS – if you just can't get enough information on wind socks then check out the post titled "A Triple Threat; Head Cover, Swing Training Device, and Wind Sock!"