Have you ever heard of "The Synchronizer?" I had not until I came across an interesting patent application that published last week and thought to myself… "that just makes sense." Then I did what I always do, I ran a search for the inventor to see if they have some skills, or are a hacker like me. This time it turned out the inventor is a PGA Lifetime Member and actually has product for sale on a website; all good signs so I bought one. The fact that it is the second training aid purchase I have made in the past month should give you an indication of the state of my game!
Now to the invention… the patent application published as US Pub. No. A golf swing trainer which gives a golfer immediate feedback as to whether the relative timing of the hip movement to the club movement is correct. The trainer comprises a lightweight swing arm which is pivotally connected to the user's belt. For a right handed user, the swing arm on the trainer is initially placed to the right of a right-handed user and is pushed around by the movement of the user's left forearm during a correct golf swing. On the other hand, if the golfer's arms pass in front of the swing arm without swinging it around with the arms, the timing of hip movement was incorrect. In the case of a left handed golfer, the trainer swing arm is initially moved to its far left position and, as before, during the downswing, the user's arms should come in behind and push the trainer swing arm around ahead of the user's arm.

The application's explanation of the drawings and swing sequence appears to a little off the mark; some figure numbers must have been changed late in the process without the necessary changes being made in the specification, or the attorney isn't a golfer. Regardless, it seems that the sequence below "…shows that with the waist and hips twisted to the left, the left arm comes in behind and pushes swing arm 4 to the left. FIG. 7 shows that after the ball has been hit, the user's arms continue to push swing arm 4 all the way to the left."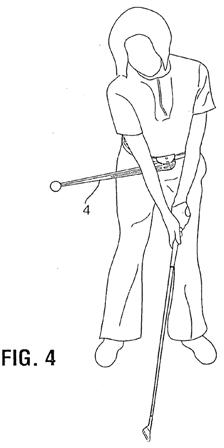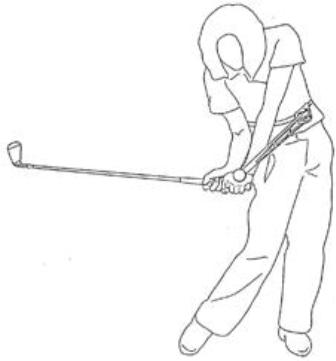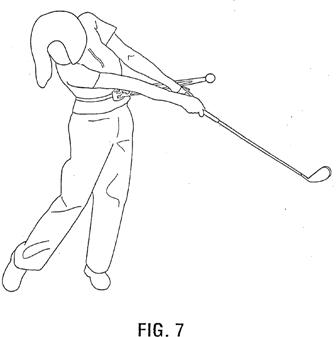 I believe it is the figure below that "shows the result of incorrect club and hip movement timing. When the waist didn't twist to the left soon enough, the user's arms come down in front of swing arm 4 and therefore, don't carry it on around to the left. Upon seeing that the swing arm didn't move, the user get's immediate feedback and knows that the waist moved too late during the swing."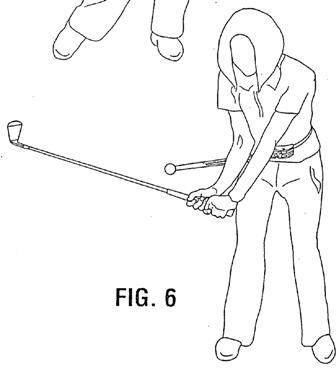 If you see me at Q-school next year you will know that it works!
Dave Dawsey – Monitoring Golf Swing Training Inventions