It has been a while since I have covered an interesting golf shoe invention. Fortunately that changes this week with the publication of a patent application directed to a golf shoe with retractable spikes. The application published as US Pub. No.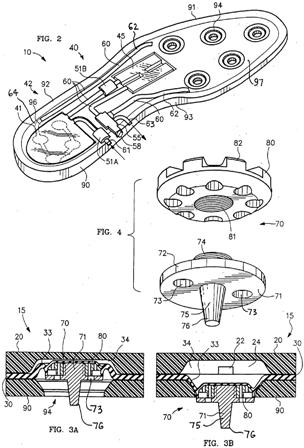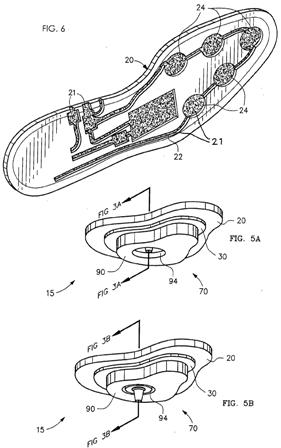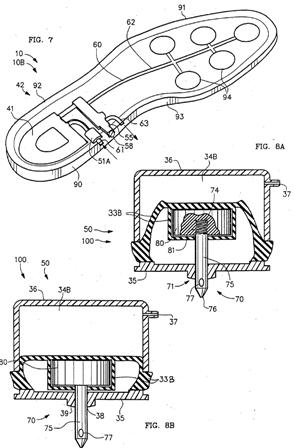 SUMMARY OF THE INVENTION
[0013] The present invention is a sole assembly for a shoe for golf or other sports, with plastic or metal spikes that may be easily extended when needed and retracted when not needed. The spikes are activated by pneumatic pressure that is generated by the wearer's own walking action. The selection mechanism for extending or retracting the spikes is a switch that can be operated with a single click.

[0014] The sole assembly includes an integral pump that selectively compresses air, powered by the wearer's weight. The compressed air expands plenum chambers that exert downward force on spike assemblies. Air pressure is maintained by check valves. The spikes protrude from apertures in the outsole then retract when air pressure is released. Mud and grass are scraped from the spikes as they retract.
[0015] Plenum chambers are embedded between midsole and outsole. Each spike is attached to a rigid ferrule, which moves like a piston inside the complementarily-shaped chamber. The ferrule is connected to, or embedded within, a flexible plenum membrane. The chamber walls support the plenum membrane such that over-distortion of the material does not occur, thereby prevent cracking of the rubber from stress.
[0016] The plenum membranes are biased in an upward position. When air pressure is released by actuating the switch, membranes, ferrules, and attached spikes retract into the sole.
[0017] All components of the sole assembly, including valves, may be constructed from synthetic polymeric materials to avoid corrosion and any need for external lubrication. The pump device consists of a compressible bladder and an optional pressure reservoir, both made of resilient rubber. They are designed to flex with the sole assembly and not create discomfort to the wearer. All materials are selected for durability and reliability of the sole assembly.
Interesting concept but I am not sure anything will bring back a conventional spike construction.
David Dawsey – Watching Shoe Inventions
PS – click here to check out another interesting golf shoe invention