Can you imagine a future in which your golf balls help combat global warming? Nike Golf hopes that you can.
Today they had a patent application publish that will make any tree hugger breathe a sigh of relief. The application published as US Pub. No. This disclosure provides a golf ball that includes carbon dioxide absorbents in order that the golf ball may reduce atmospheric carbon dioxide levels to aid in alleviating global warming. The golf ball may include an intermediate layer that is substantially impermeable to water, in order to ensure that the golf ball's core is not degraded by water produced by the carbon dioxide absorbance reaction. The chemical absorbents may be encapsulated in microcapsules so that carbon dioxide is not absorbed until the golf ball is used by a golfer.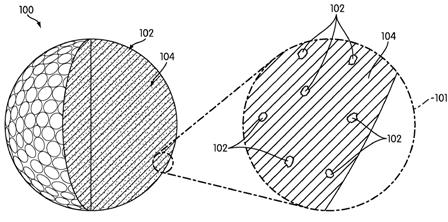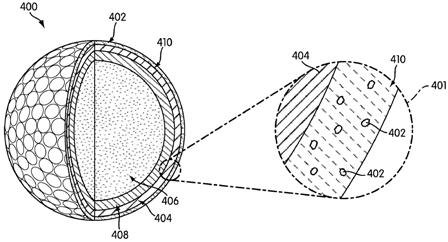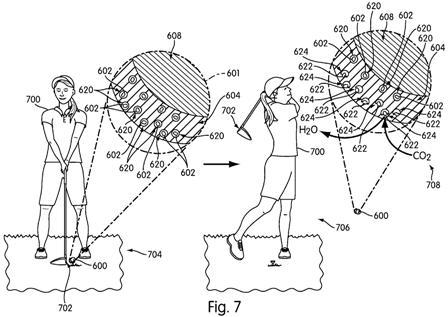 The application goes on to explain:
BACKGROUND

[0001] The present disclosure relates generally to the field of golf balls. Specifically, the present disclosure relates to a golf ball containing carbon dioxide absorbents.

[0002] The game of golf is an increasingly popular sport at both the amateur and professional levels. Unfortunately, the game of golf may be considered by some to be less than ideally environmentally friendly. The manufacture, transportation, maintenance, and use of golf balls and golf equipment may have a high environmental impact. Namely, the manufacture of golfing equipment may be energy intensive, and may require materials that are not necessary "green." Global warming in particular is considered to be an important environmental concern. A wide range of industries are undertaking measures to reduce their emissions of the green house gases that contribute to global warming.

[0003] In the golf ball industry, various technologies have sought to reduce green house gas emissions through increased energy efficiency. However, few technologies have enabled the golf ball itself to play a role in the fight against global warming.

[0004] U.S. Patent Application Publication No. 2009/0082137 to Okabe discusses how golf balls might be made more "carbon neutral" through the use of non-petroleum based polymer materials. Specifically, the use of non-petroleum based materials in golf balls may prevent an increase in the amount of atmospheric carbon dioxide, as renewable materials do not add any new carbon dioxide to the atmosphere whereas petroleum products release previously sequestered carbon dioxide. As a result of this prevention of an increase in carbon dioxide levels, this golf ball may thereby help prevent global warming. However this golf ball could at best be only carbon neutral, and is not capable of reducing the total amount of carbon dioxide in the atmosphere.

[0005] Therefore, there is a need in the art for a golf ball that helps reduce greenhouse gases, for example, carbon dioxide.
.
.
.
DETAILED DESCRIPTION

[0019] This disclosure relates generally to golf balls that include a carbon dioxide absorbent therein. The carbon dioxide absorbent may absorb atmospheric carbon dioxide so as to reduce the total amount of green house gasses in the atmosphere, thereby helping to alleviate global warming. The use of such a golf ball including a carbon dioxide absorbent makes the act of playing golf an environmentally friendly activity.

[0020] Generally, the carbon dioxide absorbent may be any composition that is capable of reacting with atmospheric carbon dioxide so as to form reaction products that include less carbon dioxide. In some embodiments, the carbon dioxide absorbent may be a base. The base may react with the carbon dioxide in an acid/base reaction to form a salt and water. In other embodiments, the carbon dioxide absorbent may be activated carbon, or an amine gas sweetening composition, for example. A wide variety of carbon dioxide absorbents are known the gas-scrubbing field.

[0021] In some embodiments, the carbon dioxide absorbent may be a strong base such as alkaline hydroxides, alkaline oxides, alkali hydroxides, alkali oxides, or mixtures thereof. Any of these compounds may generally act as the carbon dioxide absorbent, however heavier elements may have drawbacks such as price or toxicity. The chemical reaction between these hydroxides or oxides and carbon dioxide may be seen with respect to calcium hydroxide and calcium oxide, for example….
.
.
.
[0027] Generally, a salt may be formed as a result of the reaction between the carbon dioxide absorbent and the atmospheric carbon dioxide. The presence of this salt may cause the golf ball to increase in weight. This increase in weight may be largely negligible, or the increase in weight may be sufficient to be measurable and affect the play characteristics of the golf ball. The United States Golf Association (USGA) official Rules of Golf require that a regulation golf ball weigh no more than 45.93 grams. Therefore, a golf ball in accordance with this disclosure may be manufactured to weigh some amount less than 45.93, so that the golf ball may increase in weight as atmospheric carbon dioxide is absorbed. For example, a finished golf ball manufactured in accordance with this disclosure may weigh 45.5 grams before absorbing any significant amount of atmospheric carbon dioxide.

[0028] The carbon dioxide absorbent exists in the finished golf ball in a form that is capable of reacting with atmospheric carbon dioxide. Therefore, the strong metallic base must be substantially unreacted (i.e. not a salt) upon completion of manufacturing of the golf ball and first use of the golf ball by a golfer. In the golf ball manufacturing arts, compounds such as calcium oxide, calcium hydroxide, sodium hydroxide, and other strong bases are known to be used as neutralizing agents or activating agents. However, in such cases, the compound itself is not present in the final golf ball, but instead reacts with another chemical in the golf ball's composition such as an acidic polymer to form a salt. Therefore, only golf balls having the above mentioned chemicals in the final, finished composition are within the scope of this disclosure.
Props to Nike for some pretty creative thinking! Now, will it make it t
o the market?
As I have previously mentioned, green patents are all the rage and the golf industry is no exception. Just check out this post regarding a Bridgestone patent on a biodegradable golf ball, or this post regarding an Acushnet patent application directed to a golf ball recycling program.
David Dawsey – The Golf Invention Attorney

PS – click HERE to read more posts about golf ball inventions