I love putter inventions! Just when you think you have seen everything some golfer dreams up a crazy new design that will undoubtedly eliminate the dreaded 3-putt. This week's wild new design is found in a patent application that published today as US Pub. No. An improved design for a golf putter has a putter head with a back surface formed in an elliptical shape elongated along a transverse axis normal to a swing plane for the putter, enclosing a hollow interior and having a circumferential rim forming an elliptical frame for the putter head. A head striking surface is formed with a sheet of taut, resilient material secured to the elliptical frame providing a trampoline-like drum head effect when it makes contact with a golf ball that tends to return the ball's rolling trajectory to the target line of the swing axis even if contact is made off-center. The putter body is an elongated tubular body oriented in the direction of the swing axis, so that the peripheral weight of the putter is aligned along the swing axis and creates a pendulum plumb-bob effect of weight moving under gravity aligned in the swing direction. The front end of the tubular body is fitted through a central aperture in the back surface of the putter head and abuts the taut, resilient sheet material to form a circular "sweet spot" on the head striking surface.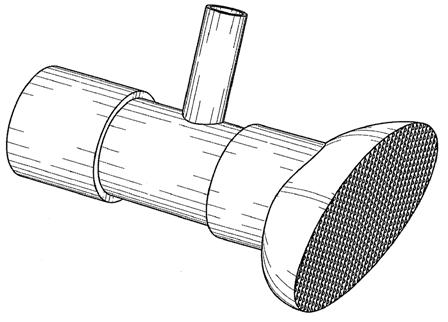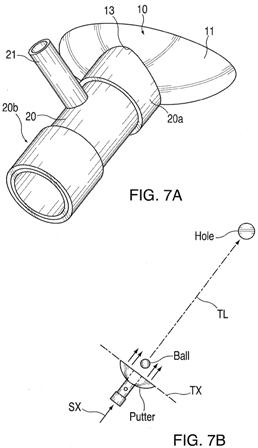 I suspect we won't see any of these at Doral this week (unless Matt Every is in the market for a new flatstick).
Dave Dawsey – The Putter Patent Attorney
PS – Check out this putter designed on a similar premise.