I can't believe it has been almost 6 years since I last poked fun at the profession and some of the horrendous drawings that appear in patent applications. Check out these past posts (1, 2, and 3) for a chuckle. This installment includes a drawing found in USPN 8845444 titled "Golf Training Aid."
Is this guy chopping wood or swinging a golf club? No wonder that he needs a training aid; and I love how short the club is!
---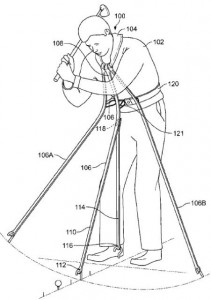 ---
Come on patent attorneys, we can do better than this!
As for the invention, the patent describes it as:
A golf swing training device constructed of flexible material that stretches when deployed and that provides feedback to a user during golf swing execution regarding vertical head movement and shoulder movement. The device includes a collar portion, a first tension strap, and a second tension strap. The first tension strap includes a first extension portion being adapted to be disposed along a front of the user from the collar portion down toward a waist of the user and a second extension portion that is adapted to extend from the waist at the user's front to the ground at a predetermined angle. A second tension strap includes a second attachment means at one end and a third attachment means at a second end. The second attachment means is adapted for attachment to the first tension strap at the user's waist area.
The lesson: if you are going to spend the money to patent your golf invention, at least work with people that are golfers (or can make a drawing that looks like a golfer)!
Dave Dawsey – A Golf Patent Lawyer
PS – follow me on Twitter (@GolfPatents) and sign-up HERE to receive posts via email.